Challenges embroidering high-tech fabrics
Sports and performance wear fabrics are the subject of continual progress, posing new challenges to garment manufacturers, textile processors, textile finishers and embroiderers. As specialists in embroidery threads and their applications, we define sportswear and performance wear as garments made of functional fabrics and we understand their versatile properties. Each fabric, whether lightweight, breathable, water resistant, microfibre or textile membranes such as softshell or hardshell garments, has a different structure and different characteristics. Designers and embroiderers need to adapt to the fabric being used, i.e. smooth, rough, flexible or tightly-woven textiles.
Madeira not only offers a large range of premium quality threads, backings, toppings and accessories, but we can also support you through the entire embroidery process to produce the perfect finish on each particular fabric. Embroidery on functional fabrics requires careful planning and good communication between designer, manufacturer and embroiderer to ensure a high-quality finish that adds value and enhances your brand. For successful embroidery onto active wear, it is essential to adapt the digitising to the fabric, select the correct embroidery thread, needles and choose the right stabiliser to achieve top-quality results.
Adapting the digitising for embroidery on functional wear
Puckering and inflexible embroidery are well-known problems when faced with embroidering onto soft, stretchy sportswear fabrics.
The Madeira research and development team are here to help. By continually testing new fabrics, we are able to offer useful advice for digitising your design:
Reduce stitch density around corners and small curves, especially for intricate designs and text.
Keep underlay stitches light and select the correct style to suitably stabilise the design.
Use a stitch direction slightly diagonal to the fabric's warp and weft to help keep the fabric flat during the embroidery process.
Start at the centre of the design, rather than from left to right, to protect the fabric and improve the results.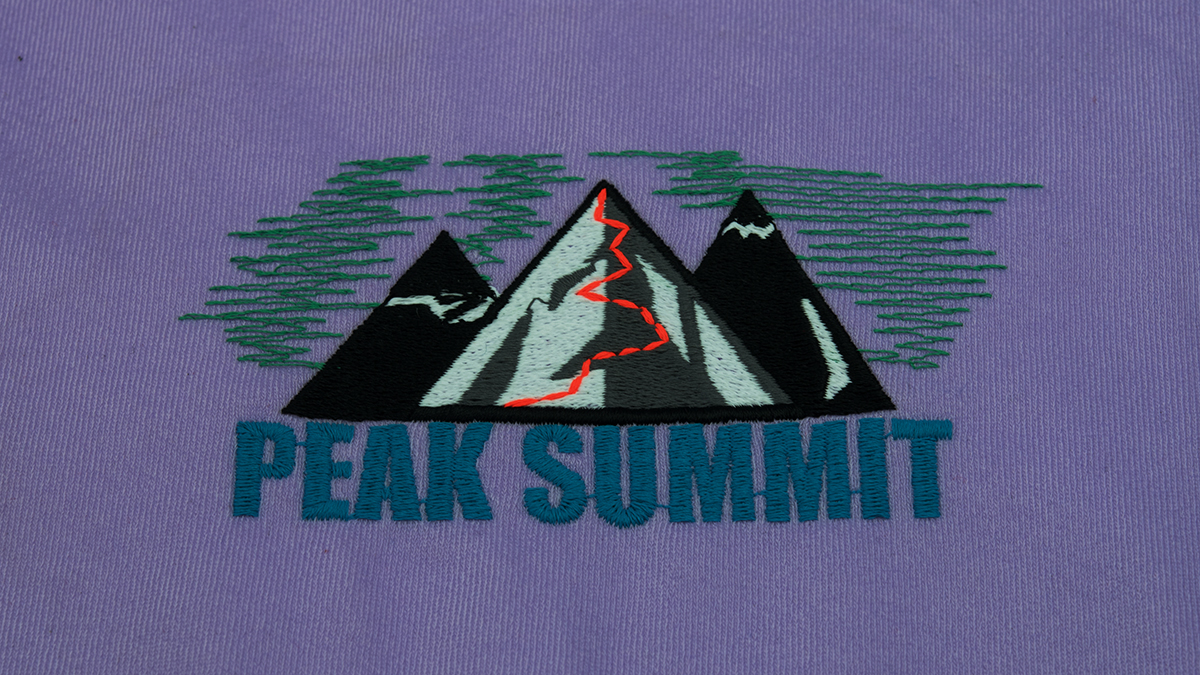 What is the best needle and thread for sportswear and performance wear embroidery?
When embroidering onto high-tech fabrics, it is important to select the correct thread thickness and needle style to protect the material's structure and achieve soft embroidery. Additionally, this will increase the wearing comfort of the garment, whether the design is positioned on the sleeve, collar, leg or elsewhere. The general rule is the thinner the fabric, the thinner needle and thread.
Small embroidery needles for better results on tightly woven fabrics
When a needle penetrates the material's structure, fibres are displaced and the fabric might pucker. By using finer thread and smaller needles, puckering can be avoided. Needle sizes 60 or 70 are perfectly suited for functional fabrics. Essential to not damage the material is the needle point. While light ballpoint needles displace the fibres without damage, regular sharp point needles might destroy fibres. Titanium coated needles have less mechanical vibration and are perfect for high-precision stitch insertion. They will produce a more refined embroidery finish on smooth or firm fabrics, especially caps, bags and shoes.
Madeira needles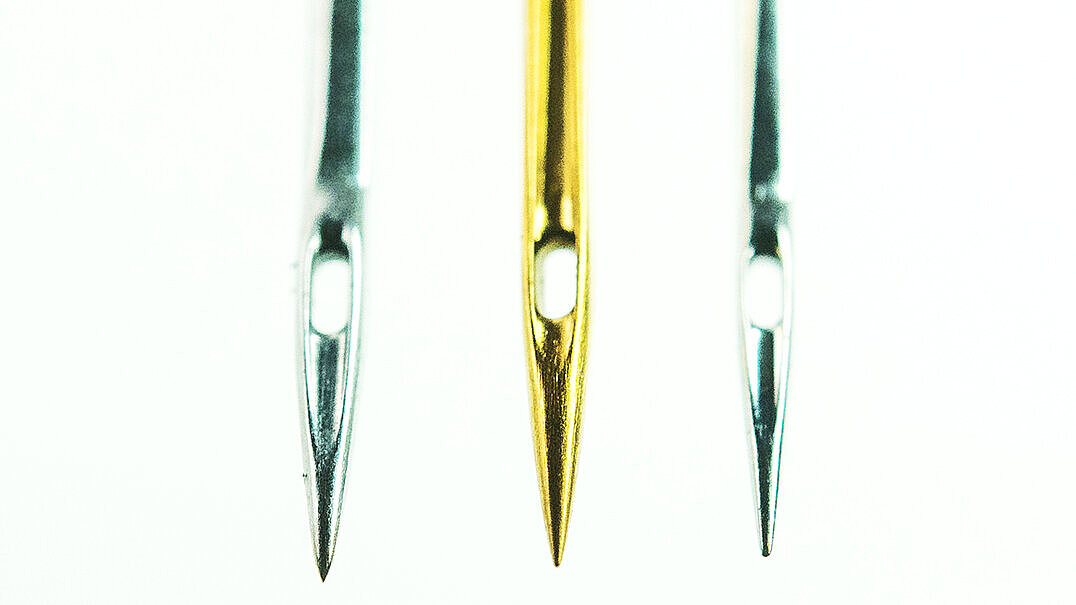 Backings will sustainably stabilise the fabric and the embroidery
For light, smooth and consistent stabilisation, it is necessary to carefully select the backing, thread and topping, if necessary, in accordance with the chosen fabric and design. These will influence the embroidery quality and wearing comfort. We recommend lightweight cut-away backings with 30-45 g/m². A structural backing offers the additional advantage of not showing through the fabric on light-coloured textiles.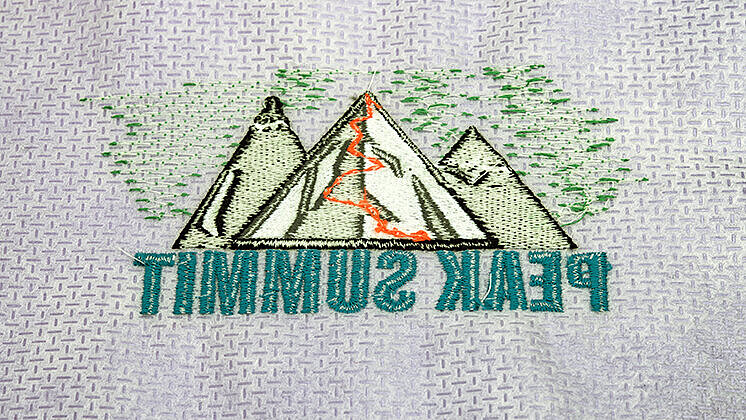 Toppings prevent stitches from sinking into the fabric
The upper side of embroidery can also be enhanced by using a water soluble topping to stop stitches sinking into the fabric. The topping supports stitches, particularly fine details and lettering and will significantly improve embroidery quality.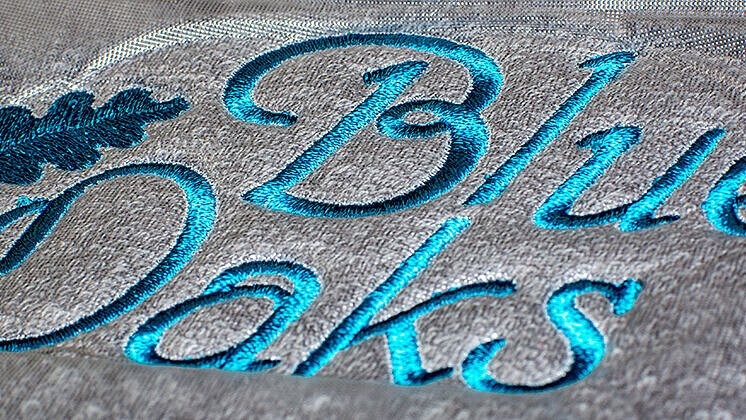 Madeira embroidery threads for the sport and performance wear industry
With a wide variety of threads and colours, Madeira supports sportswear designers and helps them to accomplish their creative ideas. Fulfilling all technical and ecological requirements as well as ensuring global availability at the desired time, Madeira is a popular partner of the sports and performance wear industry around the world.