One look into the shop windows of the fashion capitals shows that embroidery is present and fashionable. Long ago, the image changed from a relic of Grandmother's time to a cool design element. The cooperative project "Frida Kahlo – Fashion & Pain" between the thread factory, The Academy of Fashion and Design Munich and ZSK Embroidery Machines shows what arises when traditional trade meets curiosity and the urge to create. To encourage participation, the project was formulated as a competition by the representatives from Madeira and the teachers of the project group. With their own photo shoots, the winners and some of the participants are now showing their individual pieces for the first time.
Framework of an embroidery design
What started as a lecture series between the family-owned company from Freiburg and the Munich fashion and design academy turned into a creative embroidery design project over the last summer semester. Under the semester's theme "fashion and pain", the newly designed garments were inspired by the life of the Mexican artist Frida Kahlo. Another prominent personality, chosen by the students, should create a contrast to the painter.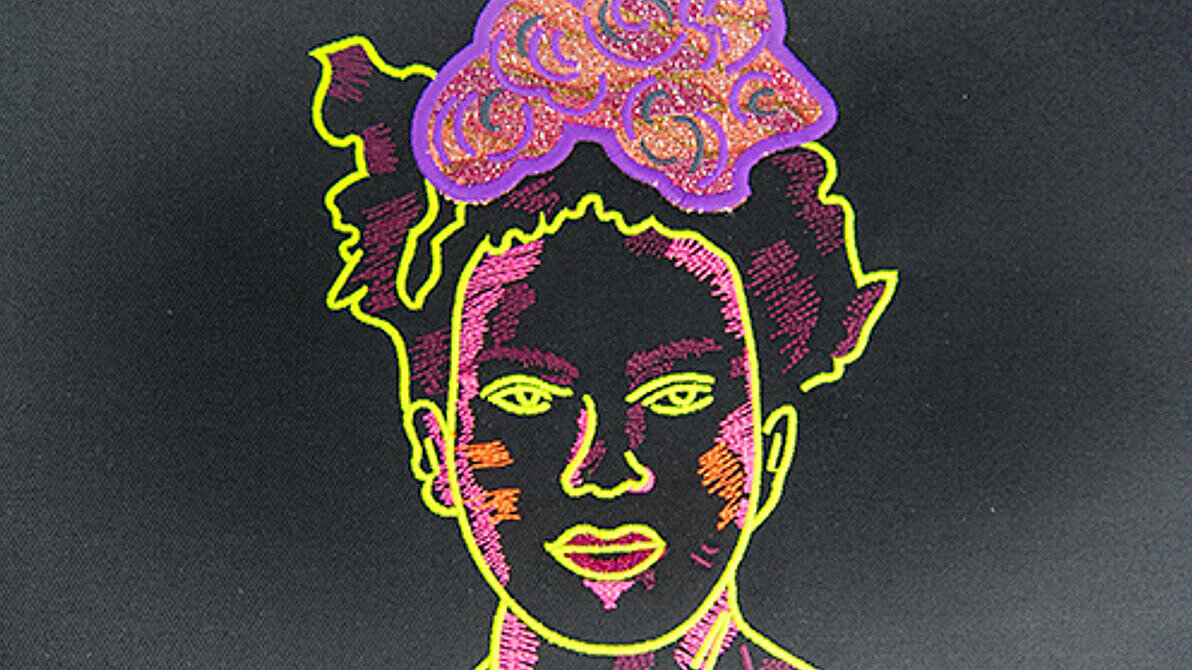 FRIDA X STEVE - Lukas Burkia's "iPhone dress"
"My embroidery design unites Frida Kahlo and Steve Jobs. Both are connected through their serious medical histories and there are iconic images from both in existence, which I absolutely wanted to integrate into my drafts. This resulted in the idea of fusing the facial characteristics with Kahlo's hair ornaments and the 'thinkers pose' from the Apple founder."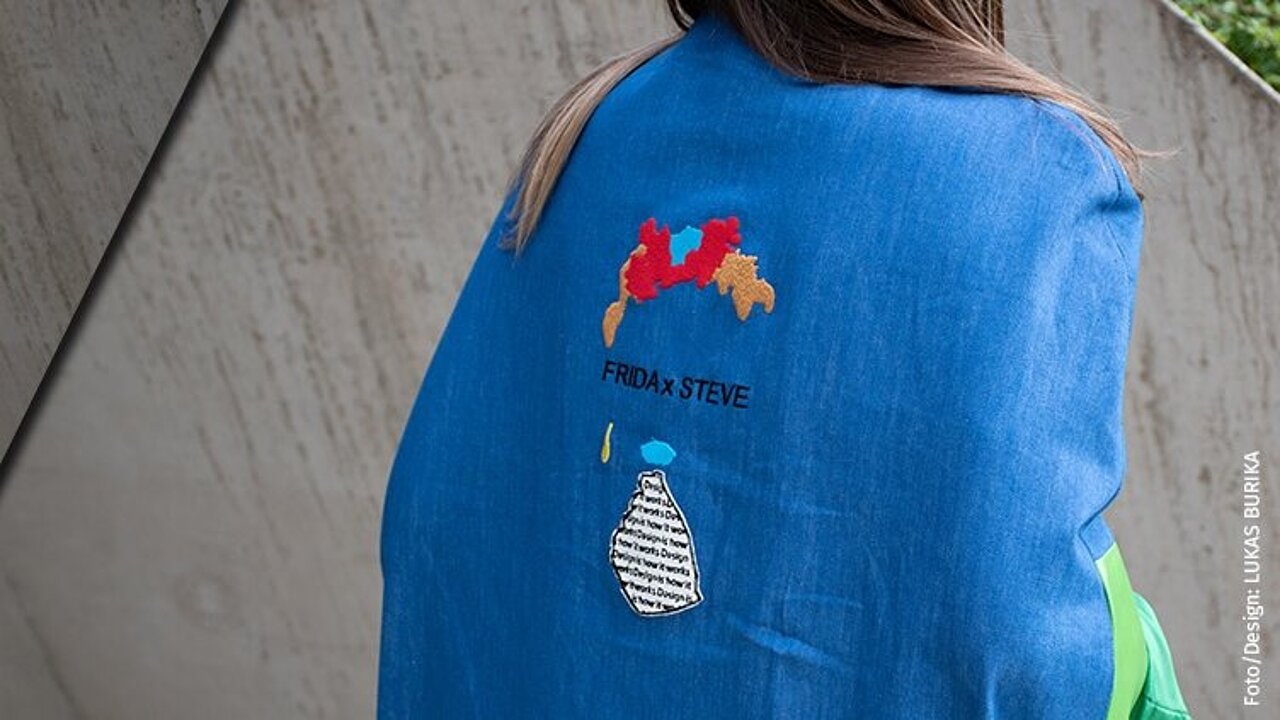 "I used different materials to differentiate the personalities of both muses. Additionally, I tried to combine the elegance and functionality of the iPhone with Frida Kahlo's extravagance, which is shown in the embroidery's colour diversity."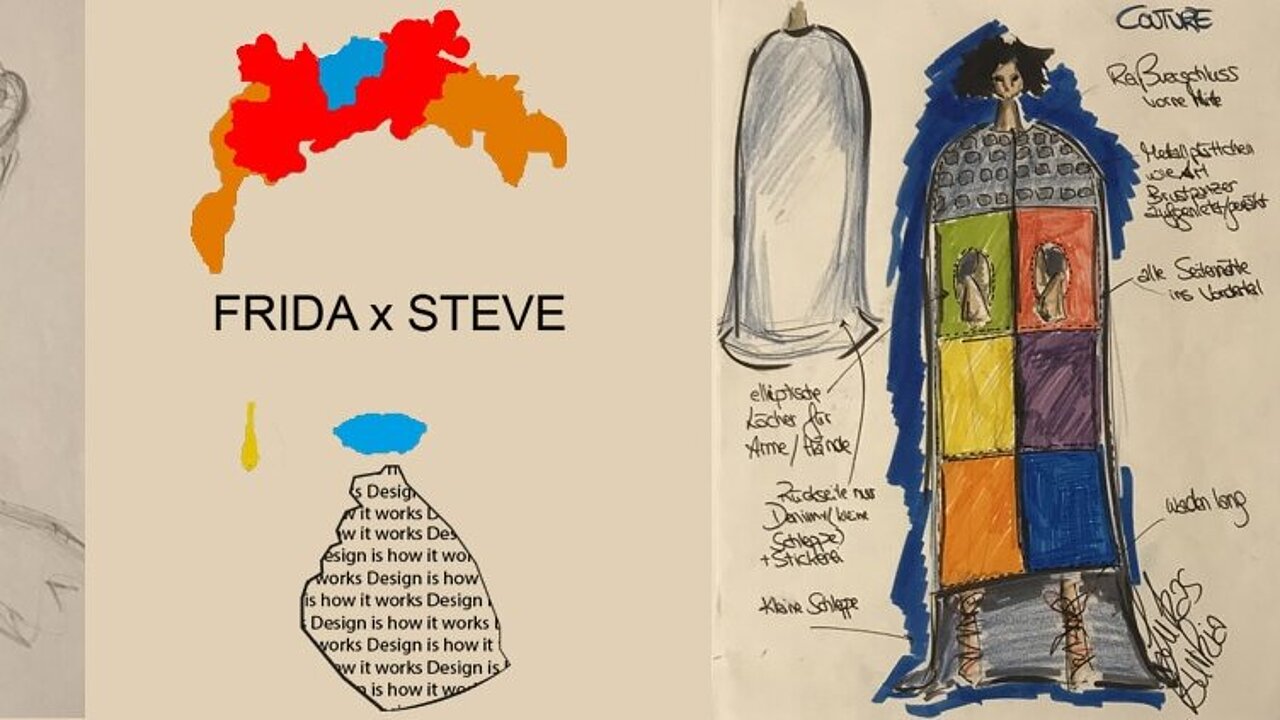 "I would really like to continue working with embroidery as a finishing for garments in the future. I see the cooperation with MADEIRA as a great chance and I'm very lucky that my student group and I had the chance to have this experience."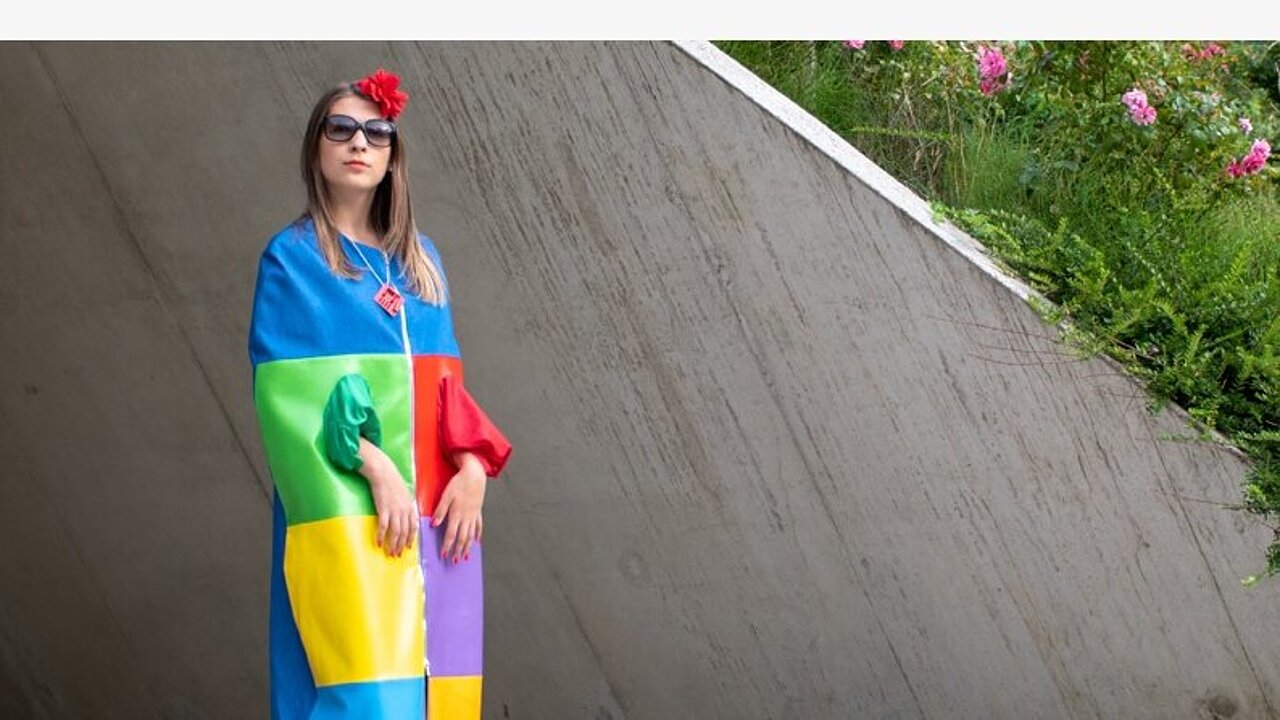 United in embroidery - Helena El Malek counts on artists with strong feelings
"To discover common features, I needed to do a lot of research. Both artists reflect their feelings in art. Frida Kahlo handled her feelings in paintings; Lady Gaga expresses herself through fashion and stage performances. Both used art to deal with mental pain."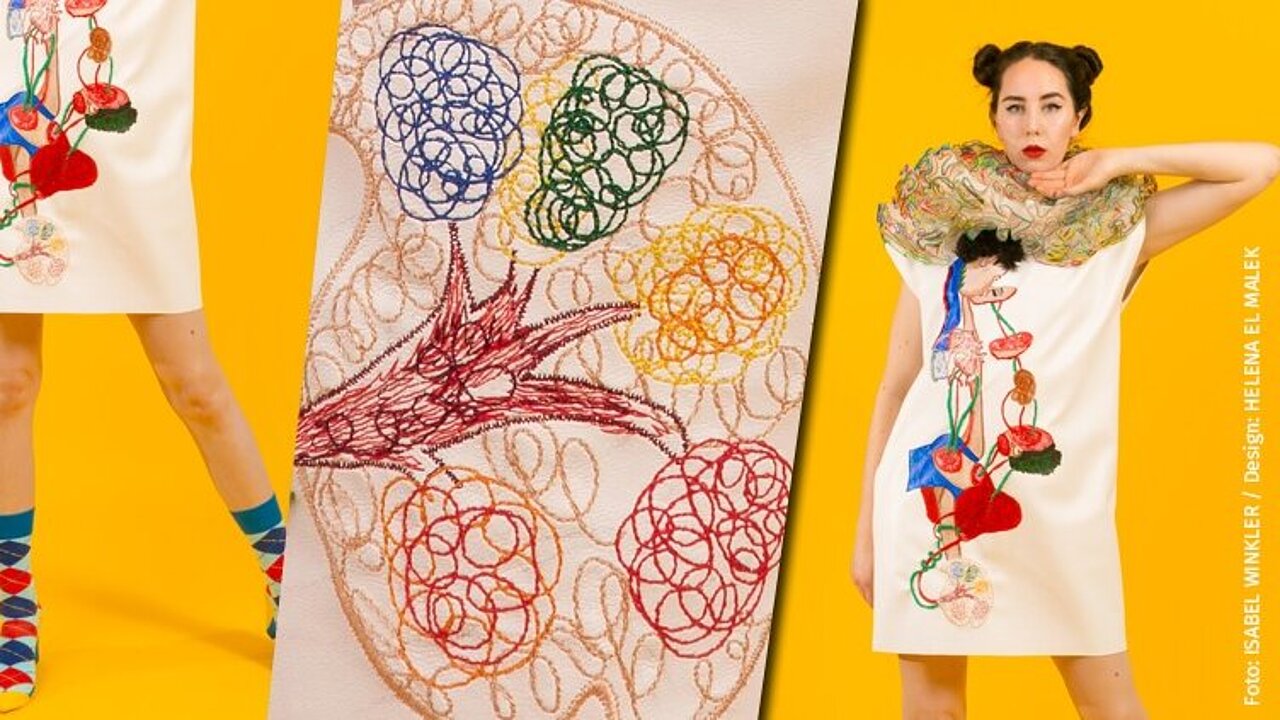 "I chose Lady Gaga, because for me she embodies a modern Frida Kahlo and I really admire her style."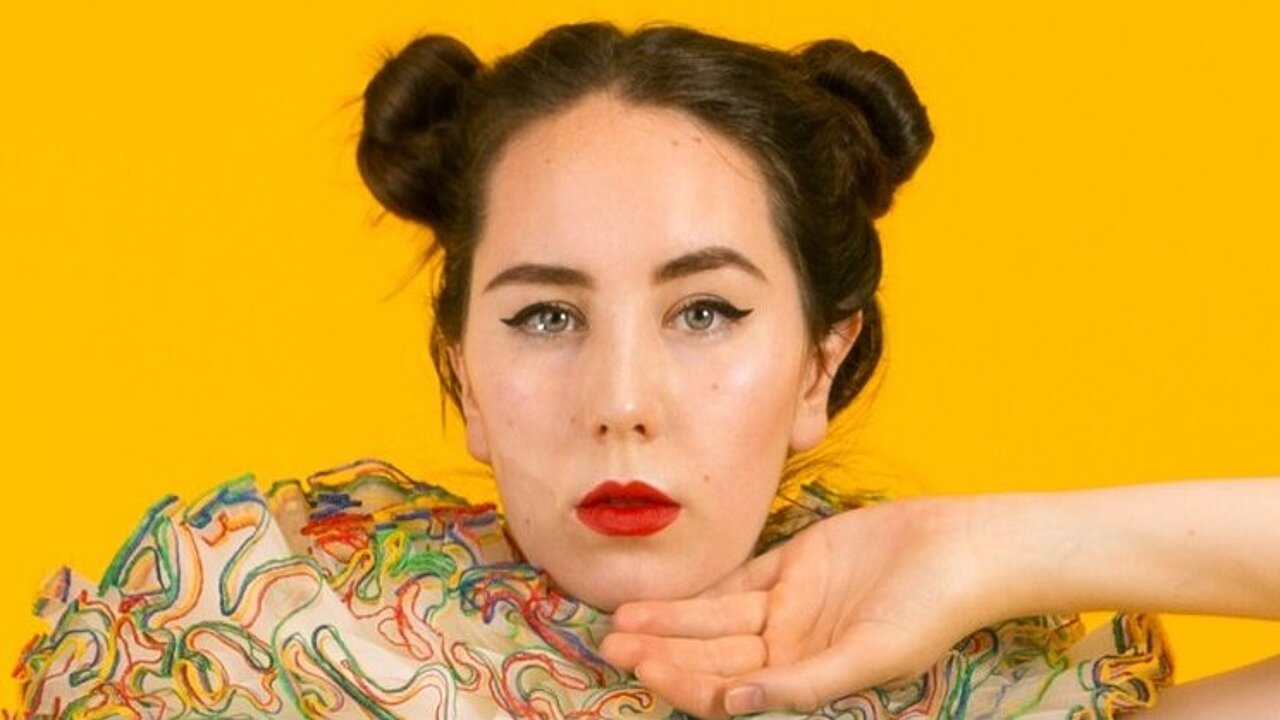 "The shape of the dress was inspired by the mostly straight-cut traditional Mexican tops. White imitation leather looks modern and reminds one of canvas. I modified Frida's paintings for the embroidery design and customised them for Gaga's provocative performances with blood and raw meat."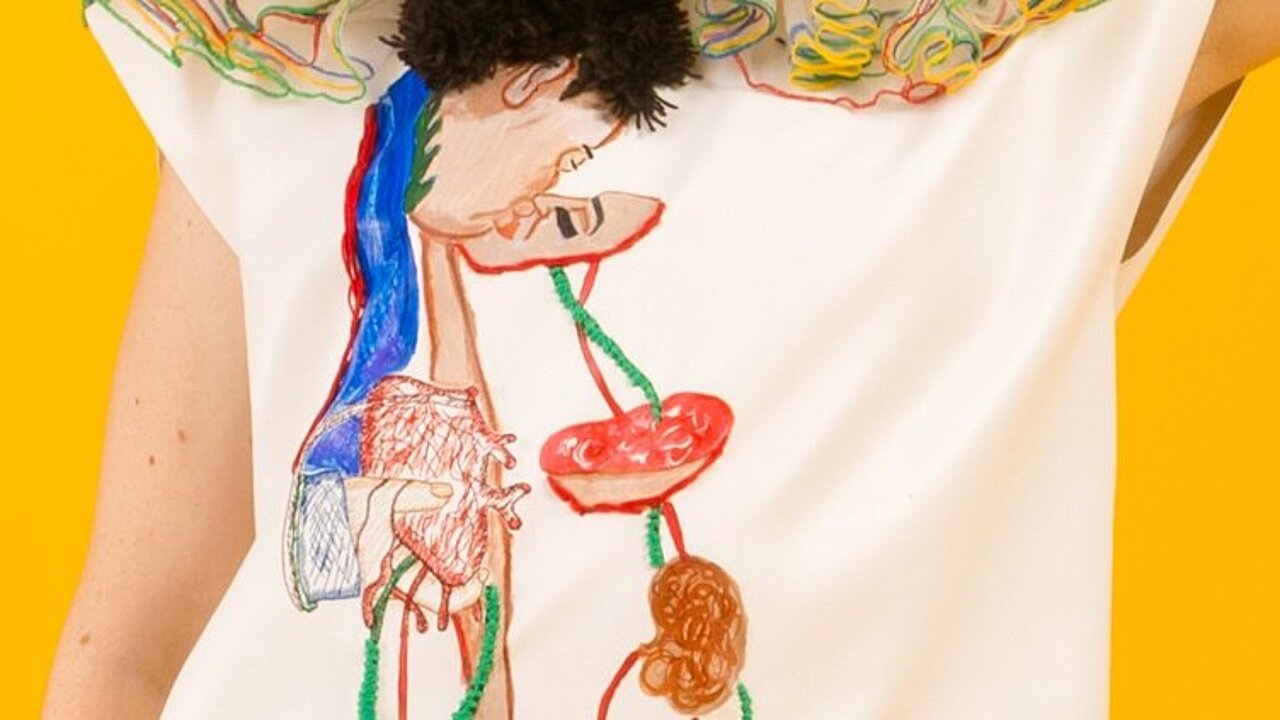 Like Yin & Yang - Theresa Höbart unites art and science
"The basis for my design is built on gravity and unites the muses Frida Kahlo and Stephen Hawking, who interact like Yin and Yang or plus and minus."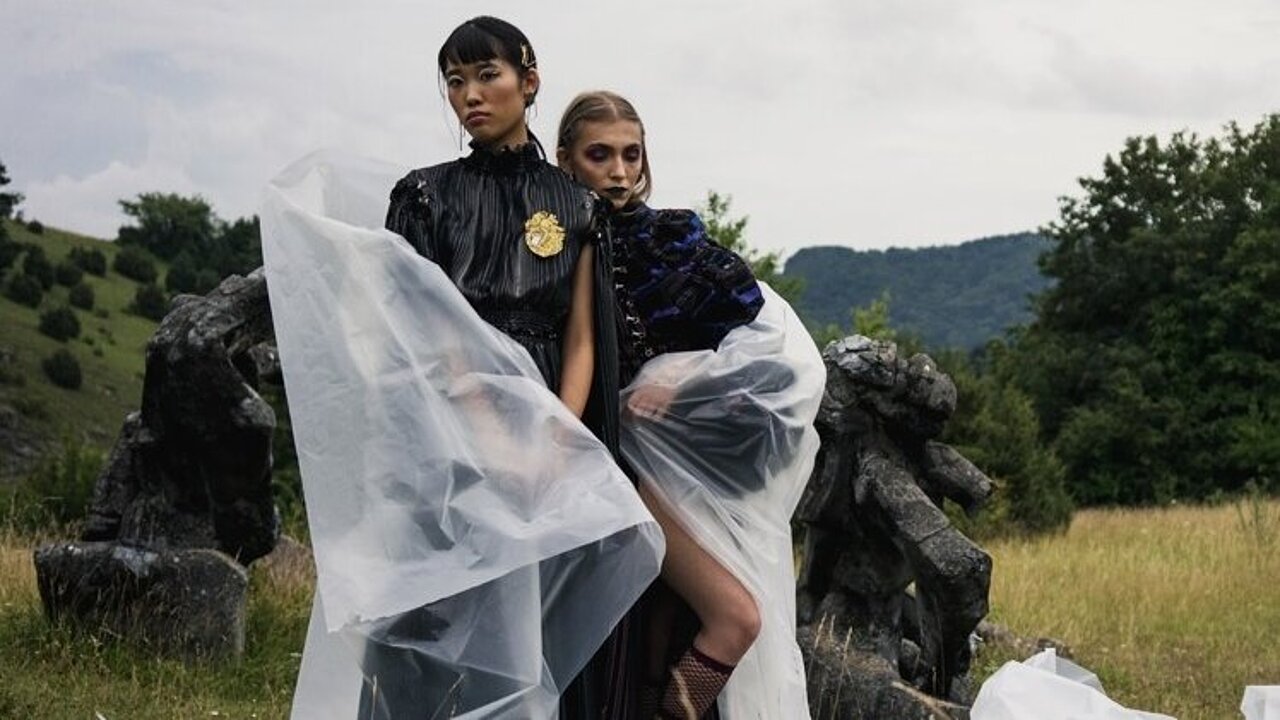 "The focus is on believing in yourself and the 'inner voice' that guides us through life. Since the emergence of mankind, this has answered the questions about 'good and bad'."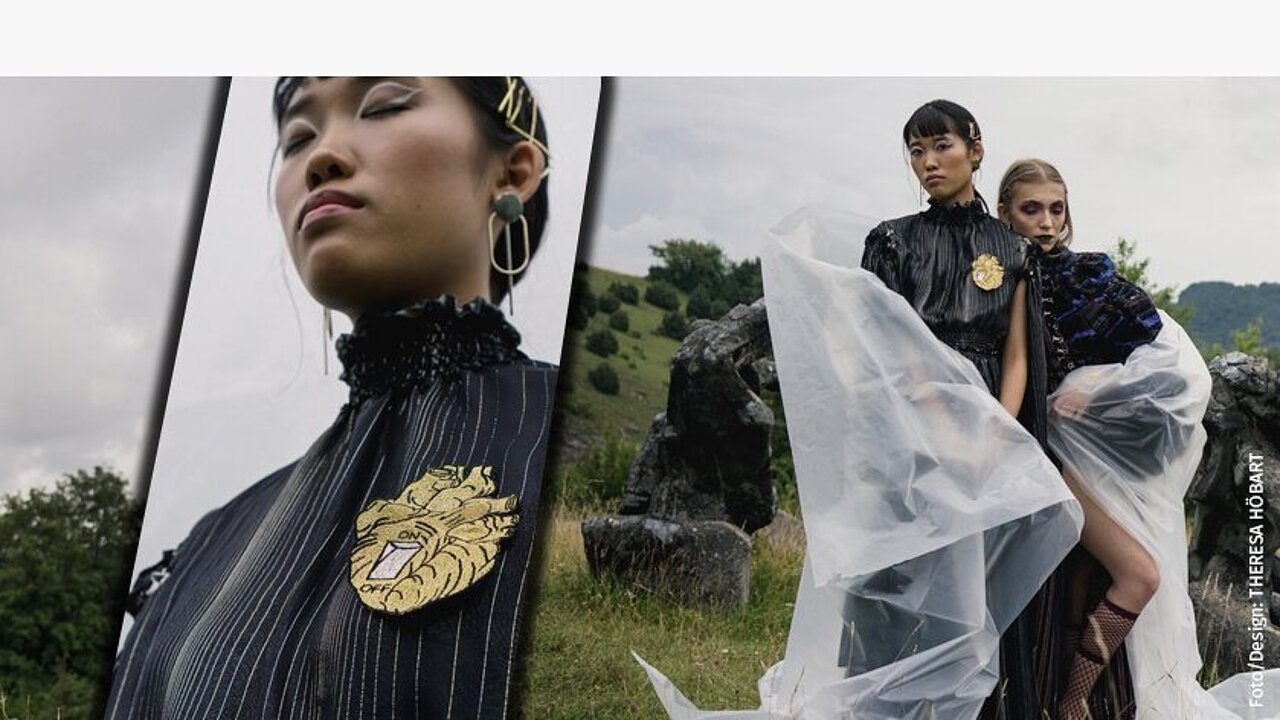 "In the first semester, I had already developed a design concept that is based on a wide range of topics about the cosmos and the natural laws that relate to it, as well as human evolution and psychology as a source of inspiration. I wanted to mirror all of this in my design."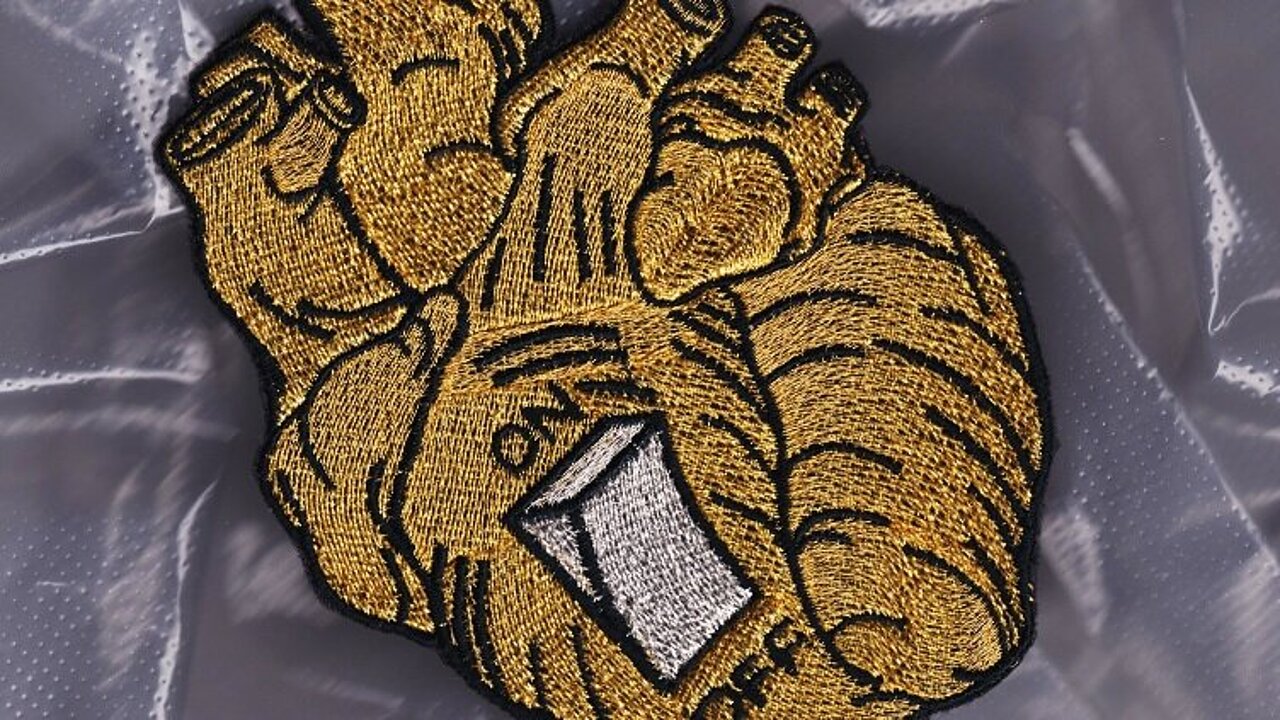 TRADITIONAL TEXTILE FINISHING TECHNIQUE MEETS YOUNG IDEAS
The three competitors with the most outstanding designs - Lukas Burkia (1st place) Helena El Malek (2nd place) and Theresa Höbard (3rd place) had the unique opportunity to present their exhibitions at major textile and fashion fairs. Lukas Burkia and his "iPhone dress" were up for a journey to PREMIÈRE VISION in Paris, Helena El Malek visited MUNICH FABRIC START with her Lady Gaga-inspired faux leather dress and Theresa Höbart presented her cosmic design at the inhouse exibithion from ZSK Embroidery Machines in Krefeld, Germany.
From left to right: Helena El Malek, Lukas Burkia und Theresa Höbart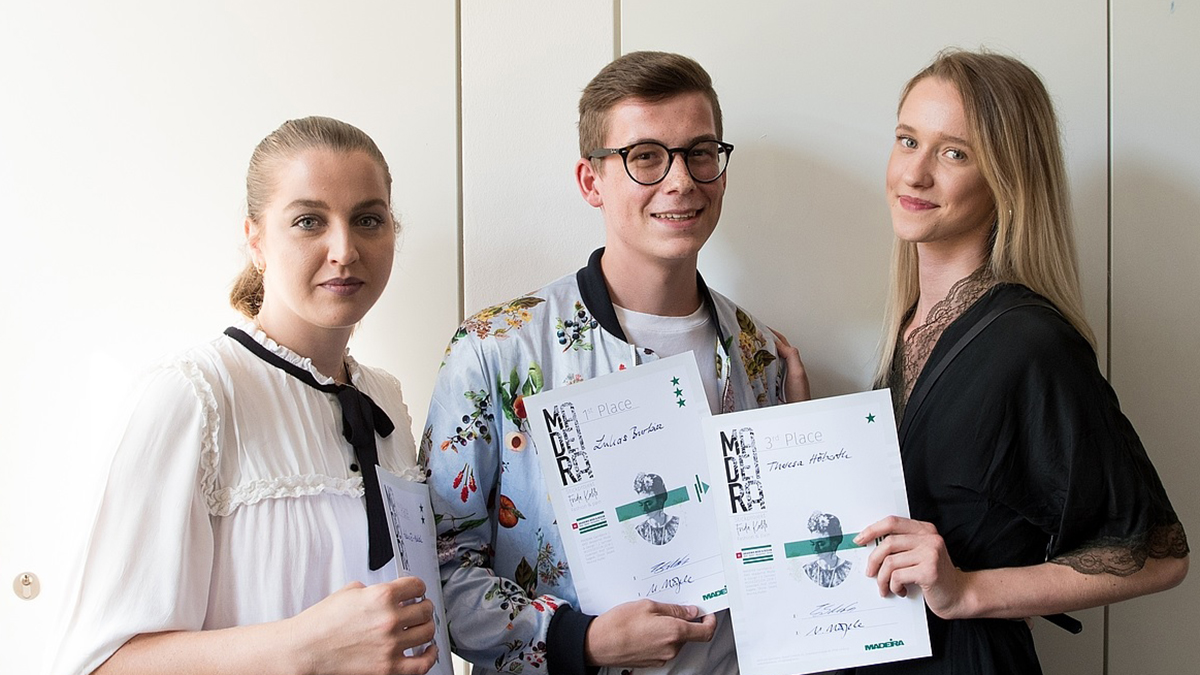 To evaluate the overall concept, the jury considered the following aspects:
Material mix (different threads, fabrics, print, applications, etc.)
Reference to the task "Frida Kahlo"
The interaction with embroidery as an embellishment technique
Originality and creativity of the design.
Some students also used their embroidery design as a decorative accessory for matching bags; others combined machine embroidery with prints or implemented elements from hand embroidery. The entire planning process happened with a view to industrial and financial practicability.
For reasons of time and budget, the samples were implemented by a specialist company, so the students had to communicate their ideas for their desired realisation of the design.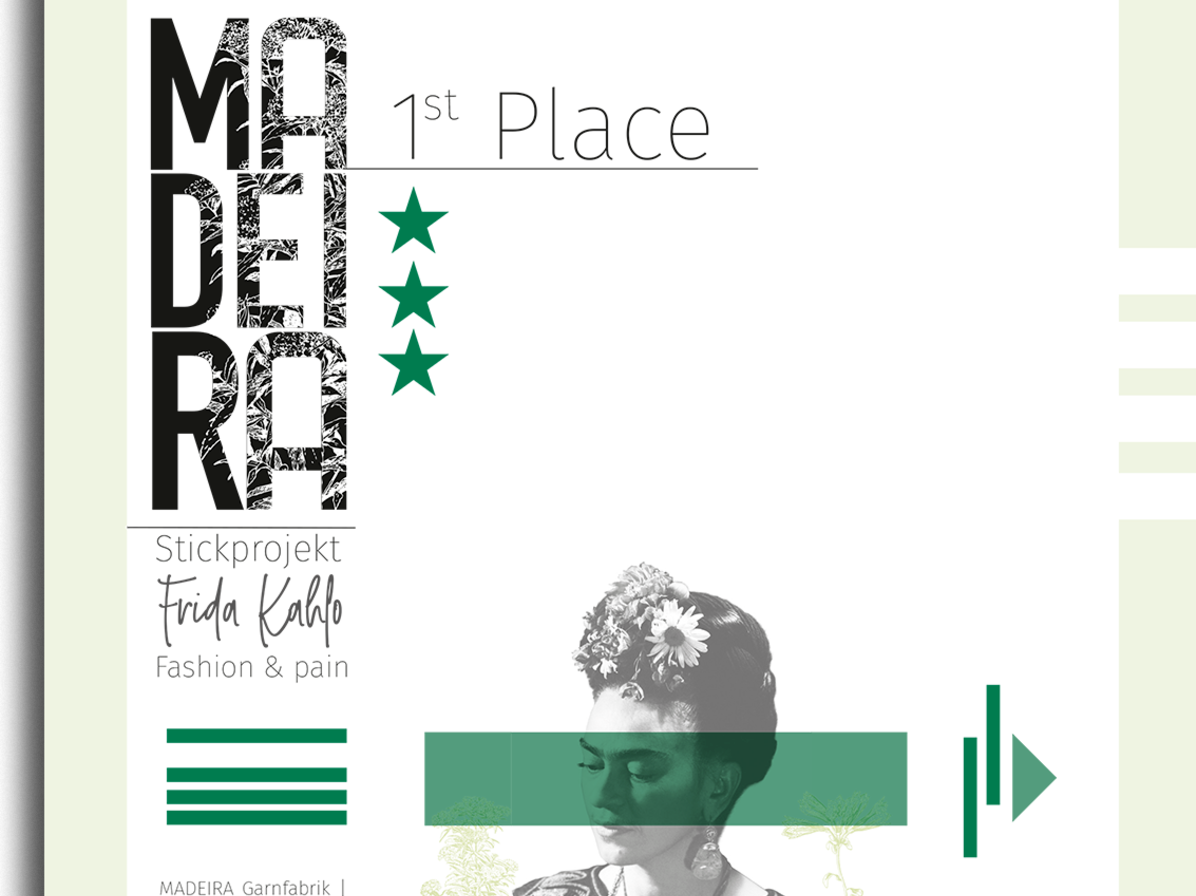 Shortlist & Award - all participants without footage: Johanna Goess-Saurau, Mohamed Noor
All participants in alphabetical order
with footage: Lukas Burkia, Theresa Höbarth, Celine Kronbeck, Pia Leberfinger, Sophia Lindner, Helena El Malek, Alisa Neu, Noemi Lorenz, Sarah Rademacher, Claudia Scharf
without footage: Amira, Johanna Goess-Saurau, Marietta Leist, Mohamed Noor, Laura Sagebiel, Constanze Schiessl, Mareike Seegers
Teachers of the project group: Monika Hutter, Ulrike Nägele, Shirin Seyed
About AMD Academy Fashion & Design:
Designers, fashion managers, fashion journalists, marketing experts and design managers are trained at the renowned Academy of Fashion & Design. 1,700 students are taught at its locations in Hamburg, Düsseldorf, Munich, Berlin and, from 2019, also in Wiesbaden. In the Fashion Design (B.A.) study programme, they learn the creative, manual and technical expertise to design progressive collections.
Do you want to see more? With pleasure! Visit us on Facebook and Instagram. There you will find extensive photographic material and interesting additional information about the students and their exciting projects.