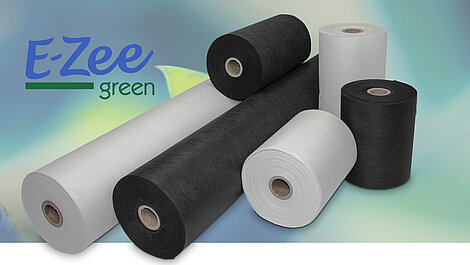 Sustainable stabilisation
E-ZEE Green Cut is our new responsibly produced, cut-away backing made from 100% recycled polyester (rPES). The use of rPES from post-consumer PET bottles prevents new waste and reduces energy consumption, compared to conventional oil-based fibre. Available on rolls in two weight options and three widths, E-ZEE Green Cut is suitable for most standard embroidery hoop sizes and a great choice for the environmentally conscious embroiderer.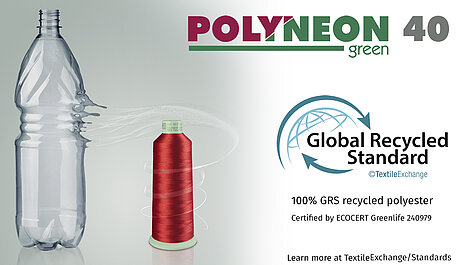 100% GRS recycled polyester
Our Polyneon Green is now certified to the GRS (by ECOCERT Greenlife, Licence Number 240979). Its whole supply chain is compliant with the environmental, chemical and social requirements of the standard. The content of recycled material is also independently tracked. In addition, it has received the STANDARD 100 by OEKO-TEX®, Annex 6, product class I. This means that the yarn is not harmful: neither for humans, nor for the environment, and it can be used for baby textiles. To create Polyneon Green, we sustainably transform post-consumer PET bottles into radiant and robust embroidery threads. Join us in this important journey towards reusing waste.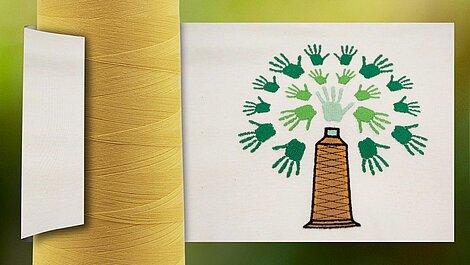 Premium lyocell
Innovation: Gentle on the skin and the earth, the colourful Sensa Green and its underthread counterpart are two of the most sustainable professional embroidery threads in the world. They are sensationally soft and responsibly produced from 100 % eco-friendly TENCEL™ Lyocell. | TENCEL™ is a trademark of Lenzing AG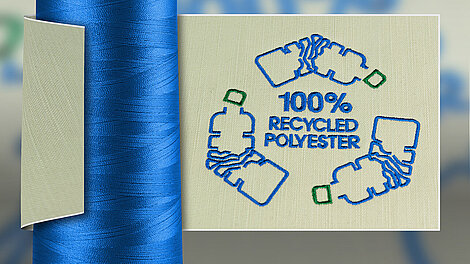 Radiant.Robust.100%Recycled.
Sustainability is the way of the future. That's why we created a robust, radiant and premium quality embroidery thread made of 100% recycled PET bottles. Just perfect for your next project.
NEW Brother PR semi-pro needles available
With the merger of Schmetz and Groz-Beckert, all needles for system 130/705 H will be labelled Schmetz from now on. Discover all details, new needle sizes and speciality needles in our embroidery needle section.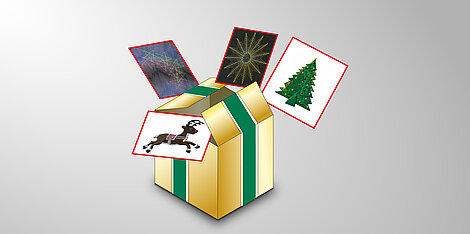 We spread joy!
It has been a challenging year, but joy hasn't been cancelled! Celebrate with these four Christmas designs that are our gift to you and your customers. You can use them as you please, for both private or commercial purposes.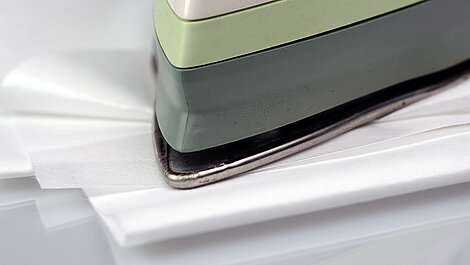 Discover the new fusible backings
To make embroidering possible on fabrics that cannot be framed without distortion, we offer tear-away and cut-away backings that allow stabilising before, during and after framing.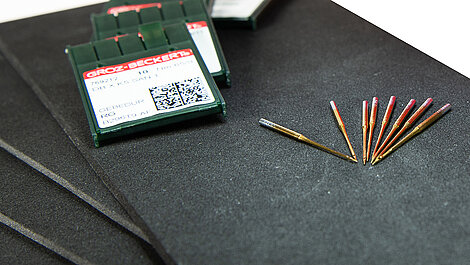 Choose the right needles
Have you ever struggled to find the right needle for your projects? We have created a useful guide to help you choose, with tips and information to allow you to achieve the desired results.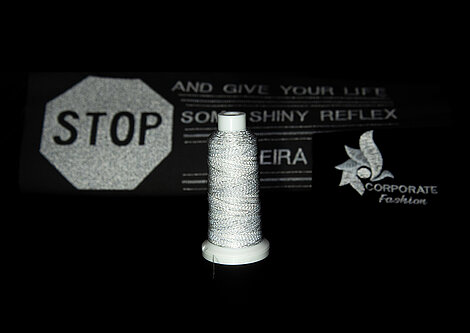 NEW: Reflective thread
Light up your designs! We have extended our range of speciality threads with a new single-colour thread which reflects the light in the dark and adds a surprise effect and sparkle to every piece of embroidery.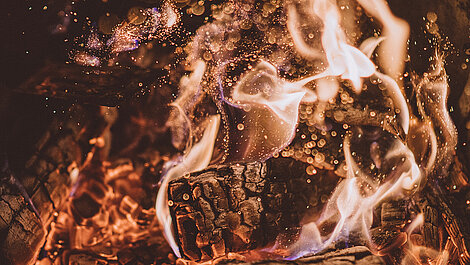 More colourful and extended protection
Madeira's flame retardant and resistant threads range got stronger. We have extended the FIRE FIGHTER palette of choices with six new colours, while Polyneon FR was additionally certified with DIN EN ISO 11612 D + E being suitable to use in protective textiles against molten metals.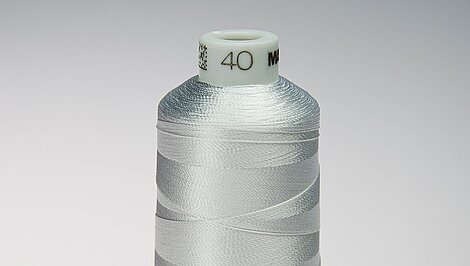 New thread weight marking on MSCs
For the best usage experience, we have changed the colour of our MSCs to allow easier scanning. And now, we've also made the size of the thread weight marks written on the cone neck bigger, so that you can find what you need, when you need it, even faster.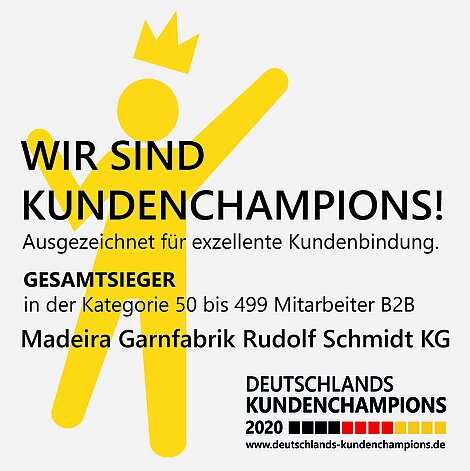 Thank you for choosing us!
"Deutschlands Kundenchampions" is a nationwide competition in which companies across all sectors are honoured for the quality of their customer relationships. This year, over 200 companies were given the chance to win the coveted title. Extensive customer surveys and scientifically based studies formed the basis for the evaluation. Madeira Garnfabrik was awarded first place in the "B2B - 50 to 499 employees" category and, with customer satisfaction of 96% and a fan quota of 49%, is well above the average in the business-to-business category. In addition to customers from Germany, consumers from Turkey, Spain and Austria were also interviewed as part of the independent market research. We would like to thank all of our customers and fans for the trust and appreciation.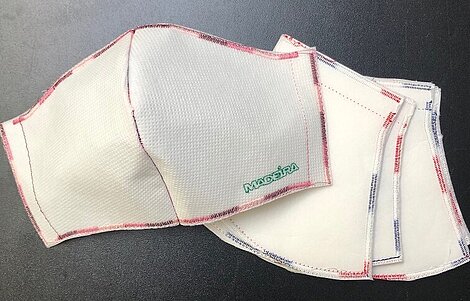 Do-it-yourself face mask - get our free embroidery file
We would like to contribute - together with you - to curbing the spread of the Corona Virus. ***We recommend to use firefox / chromium for the download instead of chrome.***

NEW FROSTED MATT 30
New for you, now available in 96 colors. Thick matte embroidery thread for eye-catching looks and voluminous effects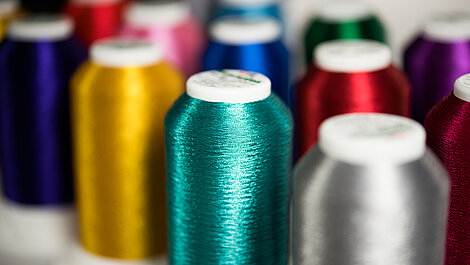 THE METALLIC THREADS for trouble-free embroidery
Our newly developed game changer, the easy-to-use metallic thread CR, is ready to help!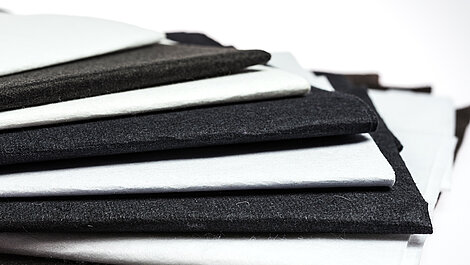 MADEIRA new stabilisers
Extension of the existing embroidery stabilisers program.In total there are 5 new stabilisers now available: 55g Weblon Plus, cut-away backing as a complementary weight class, 2 pre cuts and rolls 70g WEBLON Plus, cut-away backing, iron-coated, in 2 cut sizes 48g CMX, tear-away backing, iron-coated, rolls 70g SMX, tear-away backing, iron-coated, rolls 50g Easy Tear tear-away backing, rolls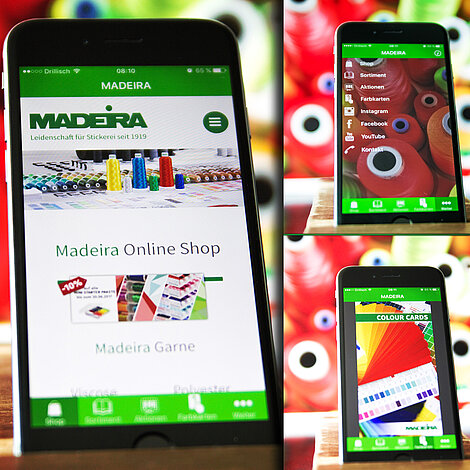 MADEIRA Garnfabrik App!
Take advantage of our new MADEIRA App now and never miss any of our discount promotions and other great deals! Now for iPhone, Android or Tablet! With the new and free MADEIRA app you now have direct access to the entire range of our online shop. In addition, you have our full product catalog, as well as our current range of color cards, always there and ready to hand. Take advantage of discounts and promotions that are displayed exclusively to you and only through our app! So you always get the latest offers as a push notification, so you will not miss a bargain. Download our app for free from the App Store or the Google Play Store and perform tasks conveniently from home, on the go, or in use from your smartphone or tablet!