Enabling on-demand thread colouring | Coloreel certified machine embroidery thread
Low impact, high performance thread specifically for Coloreel machines. The undyed thread is designed in collaboration with Coloreel to provide users with more embroidery options when colouring thread on-demand. Soft, shiny and strong, it can be transformed into various colours and used in many applications. Coloreel recycled polyester thread is made responsibly, compliant with STANDARD 100 by OEKO-TEX® and shipped in environmentally friendly packaging. It's the ultimate embroidery thread for Coloreel machines.
For a more colourful and powerful performance
An embroidery thread to ensure you get the most out of your Coloreel machine. The composition is 100% recycled polyester made from post-consumer PET bottles. It's skin friendly, free from harmful substances and certified for use on baby items.
The thread is undyed white so that users can transform it into thousands of colours that are CMYK, RGB, HEX and PMS compatible. Use it for embroidering corporate logos or fashionable designs on any material - the possibilities are endless. The shiny finish means your designs will look bold, bright and professional. It's the ideal raw material for on-demand colouring when embroidering with the Coloreel Instant Thread Coloring Unit (ITCU).
This thread is Tex 27 (270 dtex / 240 den) and suitable for all 40 weight designs. The recommended needle sizes are 70/10 – 75/11. Sold in sets of 6 x 10,000m thread reels.
(COLOREEL is a trademark of Coloreel Group AB, Sweden)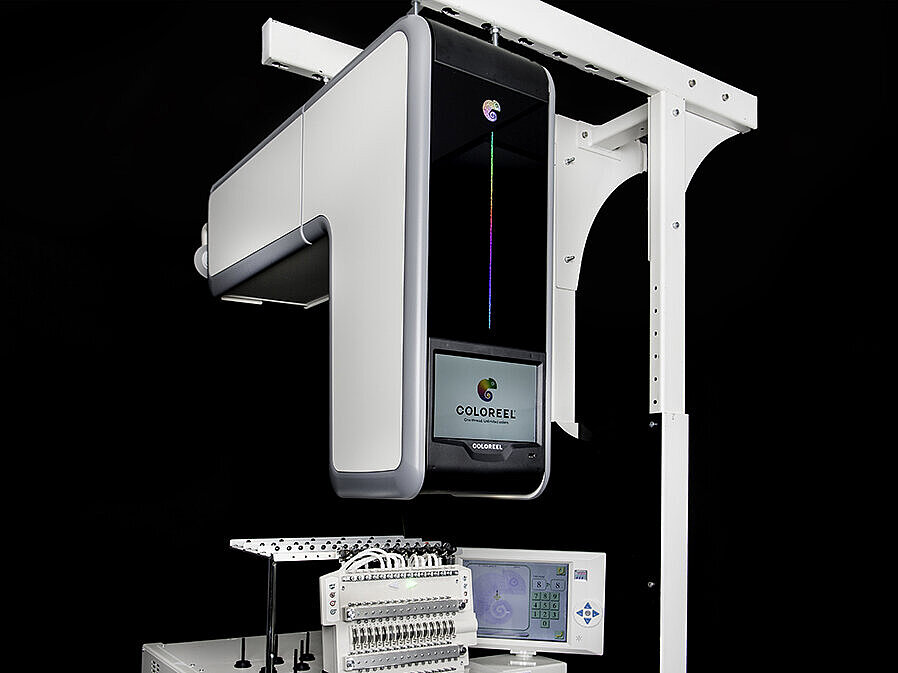 dtex 135 x 2 / den 120 x 2
Colourful creations with ethics stitched in
With this thread, you can unleash the creativity of embroidery and discover the endless possibilities for design. The undyed thread is coloured on-demand in your Coloreel machine to create unique designs with detail, texture and multiple colours. It is strong enough for embroidering on any material or product, from workwear and caps to jeans or footwear.