Sustainable business is not only an important component for the value of our brand but is also one of the goals of our company both today and in the future. Thanks to its three axes (recycling, footprint and life cycle), the MadeiraEnviro system ensures resource-saving textile production and added value in purchasing, production, sales, logistics and marketing.
Madeira contributes to greater environmental awareness by offering various supplies to create 100 % responsibly produced embroideries. Our Madeira Green product range includes: Sensa Green and Sensa Green Bobbin – both embroidery threads made of 100 % Lyocell; our recycled polyester threads Polyneon Green and Polyneon Green Bobbin; and E-ZEE Green Cut embroidery backing, made of 100 % recycled plastic bottles.
Soft. Sustainable. Sensational.
The new eco-friendly Sensa Green embroidery threads put the best parts of the nature at your fingertips. They are produced in amazing colours from 100% TENCELTM Lyocell and are feather soft.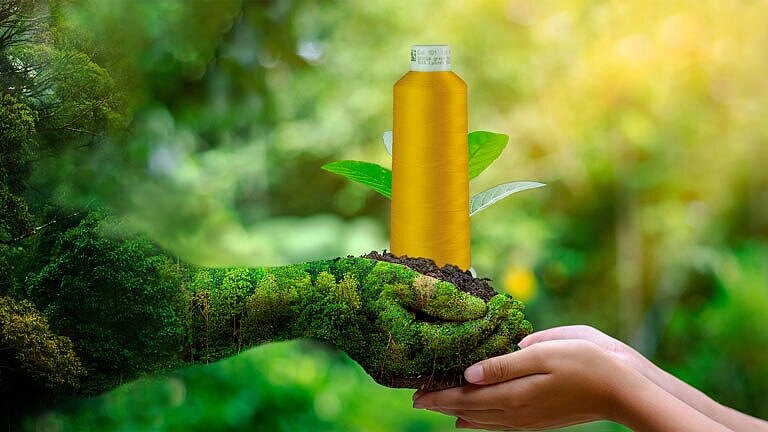 As a company from a green city like Freiburg, we care about our environment and a pollution-free future. We are therefore making every effort to optimise our sustainable production and to use it every day to make a contribution to nature and climate protection.
In addition to sustainability and environmental protection, quality is our top priority. Our premium threads are pollutant-free, certified according to STANDARD 100 by OEKO-TEX®, come from ISO-approved processes, are free from APO/ PE plasticisers and thus meet the requirements of many global brands.